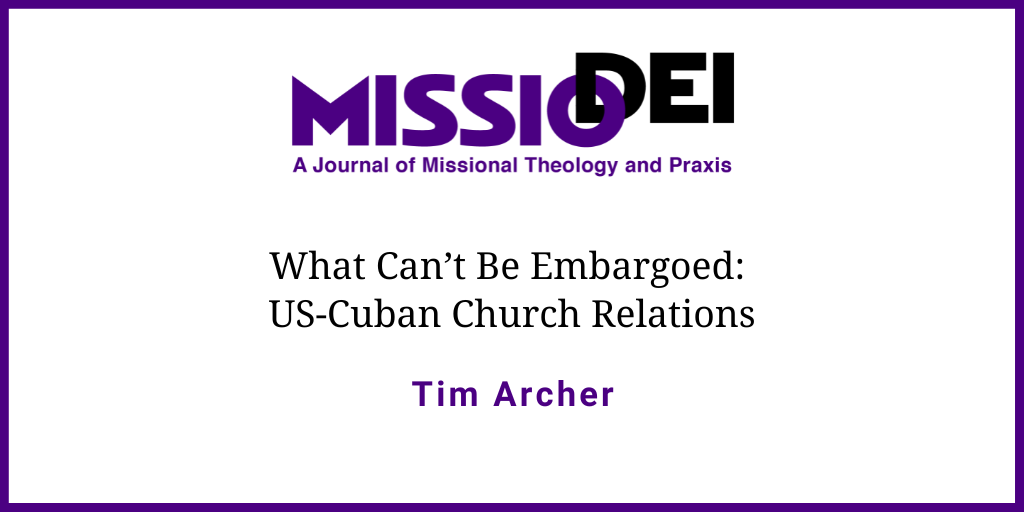 The first part of the essay highlights important persons and events during (1) the early history of the Churches of Christ in Cuba, (2) Cuba's three decades of virtual isolation from foreign workers and resources in the wake of the Cuban Revolution, and later (3) the period of reconnection with North American churches following Cuba's weakening restrictions on religious organizations in the mid-1990s. The second part of the essay analyzes four elements that make Cuba's Churches of Christ unique in Latin America, namely, Cuba's political history, her proximity to the United States, the influence of the Afro-Cuban religions, and her resilience in the face of economic hardship. The author concludes with an appeal for churches in North America to honor the autonomy and abilities of Cuban churches.
Beginnings Of Churches Of Christ In Cuba
When discussing the history of mission work in Latin America of the a cappella Churches of Christ, Cuba deserves a special mention. Cuba was the site of the first formal mission work in Spanish-speaking Latin America. José Ricardo Jiménez arrived in 1937. His was the earliest recorded work among a cappella Churches of Christ.1 It should be noted that the Foreign Christian Missionary Society (FCMS) had a work in Cuba beginning in 1899; this work was transferred to the Presbyterian church via a comity agreement in 1917.2 At that time, the a cappella churches were technically part of the same movement as the FCMS. However, when the a cappella churches separated from the Disciples of Christ in 1906, the FCMS identified with the Disciples of Christ.
In many ways, the work in Cuba restarted in 1987 when Spanish journalist Juan Antonio Monroy visited the island. Monroy was the first non-Cuban member of the Church of Christ freely able to visit the Cuban churches since the Cuban Revolution in 1959. For almost thirty years, the Cuban churches had lived in virtual isolation from the outside world. During those years, membership in Churches of Christ had dwindled from approximately 5,000 members in 1959 to about 300 at the time of Monroy's visit. Of the 100 or so congregations that existed when the revolution began, only nine remained at the fall of the Soviet Union in 1989. Since that time, the restoration of abandoned works and establishment of new congregations has created a great need for leadership development.
The Beginnings of the Work in Cuba
Early mission work in Cuba was principally carried out by two Cuban-American men: José Ricardo Jiménez and Ernesto Estévez. Through their work, Churches of Christ were planted from the westernmost province, Pinar del Río, to Guantánamo in the east. Jiménez was the first to arrive, and among his first projects was the establishment of a radio presence. That was how he made his first contacts outside of Havana. Through appeals to churches in the United States, he raised financial support for missions in Cuba. Jiménez dedicated himself to radio work for more than a quarter of a century.
On July 25, 1948, the church purchased a building in downtown Havana on a main street named "10th of October." The building could hold more than 100 people. It continues to serve as a meeting place for the church to this day. According to the national registry of churches, this church building also serves as the church's national headquarters. Officially registered church buildings were also established in Consolación del Sur (Pinar del Río Province), Matanzas, Jovellanos (Matanzas Province), and Santiago. After the end of the Cuban Revolution (January 1, 1959), when the government forbade church gatherings outside of officially registered properties, these buildings became crucial to the church's continued existence.
Use Of Media In Outreach And Training
Jiménez also established a Christian magazine, Revista Cristiana. He purchased a printing press for this and other publications. The slogan of the magazine was "Restoring the Church to Its Primitive Purity: Apostolic in Faith, Practice, and Worship." On the back cover was printed:
No book but the Bible
No creed but Christ
No name but Christian
No theory but the gospel
No objective but service
In Christ: Unity
In opinions: Liberty
In all things: Love and tolerance.3
When Estévez arrived in Cuba, he dedicated himself to translating tracts from English into Spanish. He also printed a set of notebooks focused on doctrinal training for preachers. These were important in establishing a base for the teaching of consistent doctrine in the churches throughout Cuba.
Reynaldo Manrique, a preacher in Matanzas, published El Obrero Cristiano ("The Christian Worker"), containing literature he translated from English as well as some original material. These were printed on a mimeograph machine and distributed across the island. After the Revolution, when the mimeograph ceased to function, one engineer-turned-preacher, Fernando Oliver, built a new machine himself.4 Over the years, the churches also received materials from World Bible School and from the Baxter Institute in Honduras.5
The Cuban Revolution And Its Effects
On July 26, 1953, a group of young people, led by 26-year-old Fidel Castro, attacked the Moncada headquarters in Santiago, Cuba. The assault was unsuccessful. Castro was imprisoned, and later pardoned and exiled. Following a brief stay in Mexico, Castro returned on the yacht Granma with a group of eighty men, ready to lead an armed revolt. On January 1, 1959, Castro entered Havana in triumph. This began a new period in the history of Cuba.
At the time of the Revolution in 1959, an estimated 5,000 members of the Churches of Christ met in one hundred different locations. Six of these meeting places were buildings used exclusively for church gatherings. These church buildings were located in Consolación del Sur (Pinar del Río Province), Havana, San Antonio de los Baños (Artemisa Province), Santa Cruz del Norte (Mayabeque Province), Matanzas, and Jovellanos (Matanzas Province).
Following the Cuban Revolution, the first report to Churches of Christ in the United States about the work in Cuba was published on March 31, 1959.6 Jiménez and Estévez wrote an open letter to the churches in the United States, urging them not to rush to conclusions about the nature of the revolution. They requested that churches continue funding their work as they saw nothing but increased opportunities in a Cuba where the government was now separated from the Catholic Church.
During the initial years after the revolution, the church flourished under the new government. For example, a new congregation in Santiago received official recognition in 1959. Churches in the United States, however, were not so optimistic. Funding for the work in Cuba began to evaporate. The reports from Jiménez and Estévez show a certain desperation during this time. They were able to purchase vehicles and buildings for the church, as well as continue their radio ministries, but they were unable to find Christians in the United States willing to continue their support. Letters sent to former supporters were all in vain. These missionaries found it harder and harder to provide for their families and for the work of the church.
Jiménez was able to broadcast radio programs for two years after the revolution, but he discontinued the programs in 1961 for lack of funding. This troubled him greatly, for he knew that the work would not advance as it had without the support of the radio programs. Estévez, facing health issues and advancing age, decided to return to Tampa, where he died a few years later.
As late as 1965, Jiménez was still sending letters to various churches, telling them that his work had not been hindered in any way, nor had Churches of Christ experienced any opposition from the government. He argued that the government was only restricting those religious groups that had involved themselves in political affairs. He pleaded with his brothers in North America to restore their support, especially so that he could continue with the radio ministry.
The political climate changed once again in 1965. New restrictions were implemented that had a direct effect on the Churches of Christ in Cuba. Excessive fines were levied against local churches based on accusations that they had falsified their reports of funds, members, and property. Several places of worship were closed, notably in the provinces of Pinar del Río y Matanzas. During this time, Jiménez reported that the government only allowed formal religious meetings in legally recognized church buildings. All other religious gatherings were forbidden.
Jiménez passed away in 1974. As in many countries, all churches in Cuba are required to have a structure of elected officials who deal with the government. Fernando Oliver took over the leadership of the church with the help of several other church members. For health reasons, Oliver eventually left Cuba to live in Florida.7 Ammiel Pérez, a preacher from Havana, replaced Jiménez as representative of the Churches of Christ to the Cuban government.8
New Ties With Christians In Other Countries
In 1975, the Cuban Church of Christ renewed contact with the outside world through letters that were sent by Ernesto Estévez to Juan Antonio Monroy in Spain.9 Monroy, a Christian journalist and evangelist employed by Herald of Truth, published these letters in Restauración, a Christian journal Monroy published in Spain. In 1976, Restauración reported that the Church of Christ in Cuba had 5 meeting places, 240 members, and 10 preachers.10
Monroy had been baptized in 1950 by a Cuban missionary to Morocco. His dream was to visit Cuba and preach to the people there. A door opened for him in 1985. He was invited as a journalist to the inauguration of Daniel Ortega as President of Nicaragua. While there, he had the chance to meet Fidel Castro. Monroy spoke with Castro, expressing his desire to visit the churches in Cuba. As an ex-Communist turned Christian journalist, Monroy had always been denied a visa to Cuba. Castro told Monroy to apply again.
When Monroy returned to the Cuban embassy in Madrid, he was granted the long-desired visa. His dream came true on March 13, 1987, when Monroy arrived on Cuban soil. At this point, he had preached throughout Latin America but not in Cuba. This was the first of many trips.
Soon after this first arrival in 1987, Monroy met with a group of preachers at the church headquarters in Havana on 10 de Octubre Street. He also traveled to the other seven congregations that remained in Cuba.11 After Monroy's visit, other foreign workers began to arrive, bringing financial assistance to the Cuban churches: Dryden Sinclair, Bill Stough, Harris Lee Goodwin, among others. In 1993, one group of North Americans held what they called "the first religious campaign since the Cuban Revolution," preaching in nine different locations and baptizing 94 people. The reality, of course, is that this was the first religious campaign led by Christians from the United States. By that time, evangelistic campaigns had been held in Cuba for decades, and Juan Monroy had conducted several before 1993. After 1993, members of the Churches of Christ in the United States began to visit Cuba in ever-increasing numbers.12
A New Beginning
In the early '90s, the government authorized the establishment of house churches, called casas culto. This led to an explosion of meeting places in every province of Cuba. Soon, the number of believers in Cuba doubled.
In the beginning, house churches could have no more than 25 people at any given meeting. However, the growth of these groups couldn't be stopped, and the government eased this regulation, allowing churches to meet for study and prayer. Initially, they were not allowed to sing in these meetings. Again, these restrictions were eased over time.
These new freedoms coincided with the return of North American Christians to the island. Suddenly, Churches of Christ in Cuba had freedom to evangelize, to meet, and to grow. They also had resources needed for these activities. Dozens of preachers in Cuba began receiving regular financial support from churches in the United States around this time.
Leadership training has been a major focus for foreign groups working in Cuba. Such training has come in different forms: mass media, church conferences, and formal academic training. In 1995, Herald of Truth began transmitting radio programs to Cuba from the Cayman Islands. Around that time, José Antonio Fernández began working with Herald of Truth as follow-up coordinator. Later, broadcasts were conducted via shortwave from Quito, Ecuador and via AM frequencies from Florida. Since 2011, Herald of Truth radio programs have been reaching Cuba via AM radio on Transworld Radio out of Bonaire. The difference in response between shortwave and AM frequencies has been dramatic, nearing 300 letters per month. In 2014, the local post office requested that Fernández collect his mail every day, or else the quantity of letters would exceed the available space.13
Since 2006, the main radio program Herald of Truth has broadcast to Cuba is "Read the Bible" (Lea La Biblia). Instead of an overtly evangelistic format, the program focuses on providing tools for reading and studying the Bible, preparing Christians to have more confidence when interacting with God's Word.
In 1998, the first national youth conference was held in the city of Matanzas. This soon became an annual event. Later, a men's conference and a women's conference were added. These conferences have been instrumental in edifying the church and strengthening ties between congregations in different provinces.14 They have also been important sources of training for the churches. Because of space restrictions, a limited number of participants can attend. Those who do attend typically take copious notes, returning to their home congregations and sharing what they've learned. I have had Cubans come up to me to discuss conferences I've given several years previously.They remember more about the content of these talks than I do!
One unforgettable moment in the history of the Church of Christ in Cuba occurred in 2001, when the Cuban government allowed the church to use the National Capitol Building in Havana for a national preachers meeting. It was the first time in recent history, and possibly in the entire history of Cuba, that a religious conference was held in the Capitol. Five hundred and fifty church members participated in the event, coming from all parts of Cuba as well as the Dominican Republic, Guatemala, Mexico, Spain, the United States, and Venezuela. High-ranking members of the Cuban Communist Party were present to welcome the group and to recognize the work being done by the Cuban churches.15
"This Is Cuba"
In October 2022, I made my thirty-eighth trip to Cuba. I've visited every province in Cuba. I co-authored a book on the history of Churches of Christ in Cuba. Yet, I will never present myself as an expert on the subject of Cuba nor of the church in Cuba; the situation is too complex for an outsider to understand. I have learned from my colleague and friend, Tony Fernández, a preacher in Cuba, that if someone asks why things have to be done a certain way, the best answer is: "This is Cuba."
Four elements combine to make the situation of the churches in Cuba unique when compared with other Latin American contexts. Cuba's political situation is the first element. At first glance, it would seem that what makes Cuba unique is the socialist system they have been under since 1959. However, I think we need to look back to Cuba's colonial days: first as an official colony of Spain for 400 years and later as an unofficial colony of the United States for 60 years. The international community has viewed Cuba as a property to be possessed by others, and this outlook has influenced how Cubans view themselves and their country.
In addition, the socialist system in Cuba can be hard for foreigners to understand. It is difficult for Cubans to grasp as well, but they have learned to accept it and adapt to it. For 500 years, they have been forced to deal with regulations and restrictions enforced by foreign powers. When their own government creates seemingly irrational bureaucratic procedures, Cubans have learned to work within that system.
The second element is the proximity of Cuba to the United States. There is an expression used in Cuba (and Mexico): "Poor Cuba. So far from God; so close to the United States." This proximity, combined with the colonial attitude of the United States toward Cuba, has led to a love-hate relationship. The antagonism between the two governments dates back to the founding of the independent Cuban state, when Washington's diplomats, backed by US warships, rejected the first Cuban constitution and forced the Cuban delegates to write a new one granting the United States special privileges in Cuba (including the leasing of the Guantanamo Bay naval base). After the Cuban Revolution of 1959, Cuba worked with the Soviet Union to oppose the United States. In response, the United States government has maintained a policy of economic aggression toward Cuba for the last 60 years.
In contrast, the peoples of each country view their neighbors favorably. Research by the Pew Research Center in 2016 indicated that 73% of the United States population wants to see an end to the economic embargo of Cuba.16 For many Cubans, the United States represents an escape from their current difficulties. At one men's conference, a church leader said of another Christian: "He's gone to a better place. . . . he moved to Miami." Everyone laughed at the joke while generally agreeing with the sentiment.
The third element is one that can be easily overlooked: the strong influence of the Afro-Cuban religions, often collectively called santería. In February 2021, the United States Commission on International Religious Freedom observed that approximately 70 percent of Cubans observe at least one practice based on Afro-Cuban religions.17 These religions are a syncretistic mix of African spiritism and Catholicism. They mainly developed within the slave culture, as slaves needed to appear to embrace their masters' religion while desiring to maintain their heritage. These slaves accomplished this by assigning the names of Catholic saints to African gods, masking the true nature of their worship. For example, the patroness of Cuba is Our Lady of Charity (La Virgen de la Caridad del Cobre). For Catholic authorities, she is a manifestation of the Virgin Mary, who appeared to two Cuban fishermen in the city of El Cobre. For followers of santería, however, she is a representation of the African fertility goddess Oshun (for whom the Osun River in Nigeria is named). The Catholic virgin and the African goddess Oshun are both celebrated on September 8 in Cuba; for many Cubans, they are one and the same.
The ethical dilemmas created by the ongoing economic crisis represent the fourth element that needs to be considered. For many people, the harsh realities of life in Cuba force them to choose between following the letter of the law (civil and religious) and providing for those they care for. As is true in many places, the poor often define ethics and morality in relative terms rather than absolutes. The black market, prostitution, taking advantage of foreigners—all of these are seen as what has to be done to survive. Emigration is an accepted practice, even when it involves abandoning family members. In the last two years, the situation has become more extreme. Many traditional social safeguards have ceased to exist. Shortages of food and basic necessities have become more common. Desperation has grown, leading to an escalation in crime, an increase in family violence, and a rise in suicide.
Together, these four elements work together to create a situation that requires much forethought. For example:
Cuban officials may be somewhat uncooperative in light of the fact that we (United States citizens) come from a country that has the stated goal of overturning their government.
Travel to Cuba and work on the island has to be done within legal frameworks established by two governments that are antagonistic toward one another.
Non-Cuban Christians must accept that Cubans may have ulterior motives in their dealings with foreigners. These people may be looking for a way to escape to the United States. They may be seeking financial help. They may be working for the government, observing the movements and actions of foreigners.
Non-Cuban Christians must remember that Cubans have a long history of accepting one religion on the surface while clinging to their traditional religion.
Christians from other countries must keep in mind the economic differences between them and many of the Cubans they meet. This socio-economic distance is often much greater than the physical difference between individuals from the two homelands.
These elements come together to create a situation in which even the most experienced observer of Latin American affairs can feel a bit lost. Many church leaders with a history of working with Christians in other parts of Latin America have made serious mistakes in Cuba, because they have not recognized the unique nature of Cuba. For example, one biblical institute has been labeled as a human trafficking organization in Cuba because their representative in Cuba does not follow proper procedures when helping students leave the country. Since some of those students (who leave Cuba on tourist visas) have not returned to Cuba, the government feels this institute is engaged in illegal emigration.
Implications Of This Unique Cultural Setting
Far too often, non-Cuban Christians approach the Cuban churches with a lack of cultural sensitivity. Rather than learning about the complexities of the Cuban context, these Christians suppose that what has been true elsewhere will be true in Cuba. In addition, Cuban Christians are often treated as if they were children in the faith, although Churches of Christ in Cuba have existed for at least 85 years.
For the work of Churches of Christ to thrive in Cuba in the coming years, we have to let Cubans lead the way. The creative response of the Youth Conference team to the COVID crisis is an excellent example. At the height of COVID quarantines, Cuban national Liudmila Bencosme and her daughter Susana had the idea of using WhatsApp for the annual youth conference. The young people could not gather, but they could listen to audio files via WhatsApp and share messages of encouragement with one another. The virtual event was so successful that the Jóvenes de la Iglesia de Cristo (Church of Christ Youth) WhatsApp group is still active.
The later adaptation of that model to the work of the Texas International Bible Institute (TIBI) shows that Cubans can take resources provided by Christians in other countries and adapt them to their needs. Bencosme, who had taken on the responsibility of coordinating TIBI's activities in Cuba, began distributing course materials to students via WhatsApp. Internet bandwidth is expensive in Cuba and connection speeds are often slow. Yet, in March of 2022, TIBI reported that 62 students had completed ten or more courses via WhatsApp.18
Just as Cubans across the island can maintain cars from the 1950s with little to no access to parts for those cars, so Cuban churches can lead the way in adapting Christianity to their context. One example of what this can look like is the support the University Church of Christ (UCC) in Abilene, Texas, provides to the Versalles congregation in Matanzas. Rather than supporting an individual preacher, UCC has come alongside the Versalles church to support the outreach efforts of this local congregation. The Versalles church regularly sends out teaching teams to more than fifty congregations in their province. UCC provides funding for this effort without stipulating how the money is to be used. The Versalles church reports how they've used the resources but does not have to ask permission to use them as they see best. Sometimes the money goes toward fuel so that members can visit the different mission points. Some of the funds help cover the expenses for preachers who go from place to place. Sometimes, especially during COVID, the money was invested in the church's farm so that food could be produced to feed needy church members.
Christians from other countries also need to give the Cuban church freedom regarding the doctrine of the church. On the Mission Resource Network blog, Dan Bouchelle quoted an elder from Botswana as saying, "When the Missionaries came, they brought us the Bread of Life in the plastic bag of western culture. We ate it in the bag, never really tasted it, and now we are constipated."19 Churches that support works in Cuba must allow the Cuban church to take the Bread of Life and put it in a Cuban bag, which may or may not look like the bag we are using. As non-Cuban Christians, we need to let them strip away the trappings of US culture and apply the gospel to their own context.
Far too often, foreign Christians seek to strip away the plastic bags others have provided, seeing them as legalistic and rigid. But instead of then serving the Bread by itself, we repackage it into a new, shiny, more progressive plastic bag, one that fits our views and interpretations.
Too many teachers go to Cuba wanting to push agendas of change instead of providing the Cubans with the tools they need to decide for themselves how the gospel fits in their situation. They may reach the conclusions that we have reached about, for example, the role of women, the use of instruments, and a hundred other topics. Or they may reach different conclusions. As North American Christians wishing to partner with Cuban Christians, our job as outsiders is not to decide for them. Our job is to equip them with the tools they need to study and decide for themselves.
Conclusion
The Lord is doing great things in Cuba. As the number of trained Cuban leaders grows, they are taking more responsibility for the direction of the future training of the church in Cuba. Given the complexities of the situation there, this truly seems to be a positive development. It is now up to Christians in other countries to step into an auxiliary role, providing resources as needed but allowing the Cubans to make their own determinations about the future of the work on the island. To God be the glory!
Timothy Archer is the Director of International Ministries for Herald of Truth, where he has worked since 2006. He has spent three decades working in Spanish ministry, including 15 years in Argentina. He has authored or co-authored six books in English and three in Spanish. Tim is an elder at the University Church of Christ in Abilene, Texas, where he attends with his wife Carolina.